The Authorization Process
POS hardware terminals are keypad devices (like a telephone) equipped with a built-in magnetic card reader and modem. Retail – Storefront Merchants needing a credit card authorization must slide the magnetic strip of the card through the card reader, input the amount, expiration date, and zip code (cardholder address verification), and prompt terminal to dial out (toll-free) to obtain an authorization code. The terminal will display either an approval code, "card declined" or "call authorization center message." The authorization process normally takes about 15-seconds.
POS virtual terminals work similarly to hardware terminals, but function as Client or Host. The client version is a software program residing within a merchant's computer. The Host version is an Internet address where a merchant can go to complete a transaction. Virtual terminals can be manual requiring the merchant to input the transaction data from his or her physical business location, or automated whereby the cardholder inputs the data at a merchant's site (see https://www.payready.net).
The Clearing and Settlement Process
Merchants running transactions throughout the day must close out the day's credit card totals, AKA Batching. This process initiates the electronic movement of funds from a cardholders account to a merchants account.
POS Terminal Downloads
Each terminal type is unique and must be programmed with specific applications prior to a merchant being able to run transactions. For example, network processor protocols vary among each provider. Card One merchants are placed on the Vital Processing Services Platform. Also, there are a wide range of business types. A standard retail store may not require tip adjustments like a restaurant would. Card One insures all POS terminals are properly downloaded and ready to run transactions.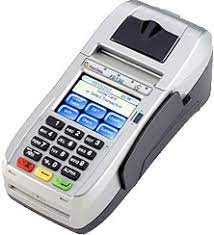 FD150
The FD150 Terminal from First Data is an affordable solution that combines performance, reliability, and ease of use in compact, feature-rich devices. In addition to the added security, the FD150 Terminal gives you a full range of solutions for payment processing, including credit, debit, gift cards, paper checks, and EBT.
Key Features:
– EMV – ready
– Embedded NFC reader
– Fully Wi-Fi capable
– Dial-up connectivity available
– Easy to learn and use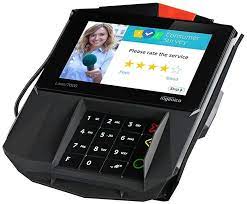 Lane 7000
Designed for speed and efficiency, the Lane/7000 creates new points of consumer engagement that improve brand loyalty and drive additional sales. Engage consumers with a large multimedia touchscreen and user-friendly HTML5 interface. Quick and easy payment options to improve checkouts. Supports EMV chip & PIN, EMV chip & sign, and magstripe transactions, as well as the broadest range of contactless NFC.
Key Features:
– Contactless
– Security
– Touchscreen
– Large Display
– Multimedia
– Signature capture
– Connectivity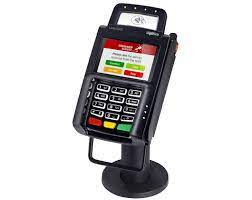 Lane 5000 
Versatile and reliable, this reader allows merchants to take contactless, chip, swipe, and keyed transactions all from one device, and accept signatures on its color display. This device is built to work with software developed using Customer-present Cloud only.
Key Features:
– Smart card
– Magstripe
– Contactless
– Color display
– Touchscreen
– Signature Capture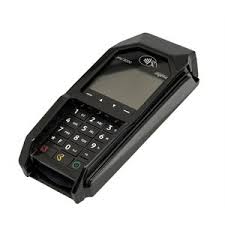 Lane 3000
The Ingenico PIN pad Lane/3000 is ideal for busy retailers since it is designed to manage thousands of non-stop transactions per day. Optimised for multilane checkouts, it enables a large number payment options all while boosting contactless payment through a dedicated card reader zone. Its intuitive interface makes it easier to set up transactions, and the support of both standard and touch display offers more choice to the customer.
Key Features:
– Intuitive readers
– High-end keypad
– Easy to integrate
– Customizable branding
– Modular version to optimize total cost of ownership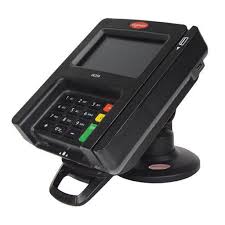 iSC Touch 250
The iSC Touch 250 combines signature capture and touchscreen technologies in a robust, compact design. The device showcases a full range of revenue-producing promotions – ads, videos, couponing, and cross-selling opportunities, gift card sales, extended warranties, digital signage, and more.
Key Features:
– Security
– Smartcard
– Magstripe
– Contactless
– Signature Capture
– Touchscreen
– Multimedia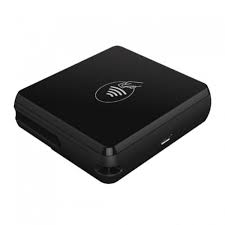 BBPOS
Despite its small size, the Chipper is both powerful and flexible. It supports all magstripe and EMV payment functions. A superior chip reading platform, with end-to-end data encryption technology, ensures safe and flexible payment options. Also accepts Apple Pay, Android Pay, Samsung Pay, Visa Paywave, MasterCard PayPass, AMEX ExpressPay, and Discover D- PAS.
Key Features:
– EMV chip card reader
– Magnetic Stripe Card Reader
– EMV contactless
– Over-the-air key update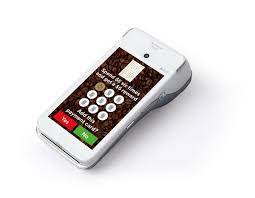 PAX A920
The A920 terminal is manufactured by PAX Technology, it is a "smart POS" terminal because of its contactless interface and software with versatile features to make it a self-sufficient, portable checkout. It combines design and practicality. The Android operating system hardcoded on the PAX A920 allows you to install and use PAX-based applications relevant to your business.
Key Features:
– Intuitive readers
– High-end keypad
– Easy to integrate
– Customizable branding
– Modular version to optimize total cost of ownership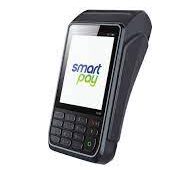 PAX S920
Mobile Payment Terminal features a large multimedia color touch screen. Exceptional stability and reliability, with ultra high-speed 400MHz ARM 11processor, great connectivity: 3G, 4G, GPRS, WiFi, Bluetooth Built-In contactless & NFC Large memory capacity with Micro SD card slot.
Key Features:
–
Exceptional Reliability
– 400MHz arm 11 processor
– Chip Card/ EMV/NFC Compatible
– Long-lasting battery life